In the world of ultrabooks, Microsoft has made a small place for itself thanks to its Surface Laptop range. The Go model is the most affordable and its price drops sharply during the French Days with no less than 200 euros reduction.
If it is not considered a must in the ultrabook sector, Microsoft's Surface Go still has some arguments to make for nomadic laptop enthusiasts. These are even more highlighted thanks to the French Days and a price drop of no less than 200 euros for the i5 / 8GB RAM version.
What to remember about the Microsoft Surface Laptop Go
An elegant design with good finishes
Brilliant 12.4-inch 2:3 aspect ratio LCD screen
A solid office configuration with a 128 GB SSD
Instead of the usual 799 euros, the Microsoft Surface Laptop Go with 128 GB of storage is available on sale during the French Days at only 588 euros on the E.Leclerc online store, a little over 200 off. The model in question is only available in Rose Gold color.
---
If the offer mentioned in this article is no longer available after that, please take a look below to find other offers on the Microsoft Surface Laptop Go. The table is updating automatically.
An ideal laptop to move everywhere without suffering
The Microsoft Surface Laptop Go is a laptop designed to be transported very easily. With only 1 kilo on the scale and very compact dimensions (28 x 20 x 1.6 cm), it can be stored very easily in a bag. It is a perfect format for students and professionals. The Surface range is known for the exemplary finishes of its products, and the Surface Go is no exception to this rule with real and apparent solidity. You really feel like you have a finished, quality product in your hands.
On the other hand, the Surface Laptop is not a monster of power. This model has a tenth generation Intel Core i5 1035G1 paired with 8 GB of RAM. Suffice to say that it will not be necessary to count on it to play greedy 3D games, but it will largely do the job for classic office tasks or for video playback. You should also know that it comes with an S version of Windows 10 which greatly limits the uses of the product, but it is largely possible to switch to a classic version 10 or 11 of the OS if necessary. In addition, there is a 128 GB SSD storage.
A very good screen in an unusual format
The Surface Laptop Go is equipped with a 12.4-inch PixelSense LCD panel, which may seem small in size. But thanks to its 2:3 ratio, the same as on the Surface tablets, we have a much more pleasant impression of size than in a classic 16:9 format. DIt is therefore very comfortable to navigate with it on the Internet or to do word processing. The resolution is however very different (1536 x 1024), but Windows is quite capable of adapting the content.
As far as battery life is concerned, we can say that the affordable computer from Microsoft is in the average, counting on a use of 7 hours with a mixed use combining web browsing, office automation, a little light photo editing and streaming of music. It lasts all day, but if necessary the fast charge via USB-C is rather efficient: from 0 to 100% in 1h30 with the 39 W charger.
To find out even more, do not hesitate to read our test of the Microsoft Surface Laptop Go.
8 /10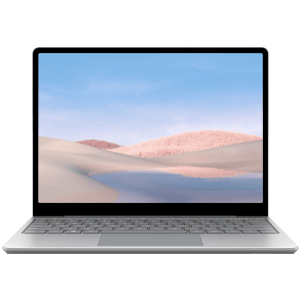 To not miss anything of the French Days 2022
The French Days officially started on Wednesday May 4, 2022 in France and will end next Monday. As of now, several merchants have already drawn their best offers. Here are the promotions that are worth your money.
To make sure you don't miss out on any good plan for this event, here are some reflexes to adopt now so as not to miss any of the offers we recommend:
Follow us on our twitter account @FrandroidPromos only dedicated to good deals (remember to activate the bell to receive notifications in real time)
Download our Frandroid application (available on iOS and Android) to activate notifications from the "Bons Plans" category and thus receive new articles related to the French Days in real time
Subscribe to our Good Deals newsletter to be sure to receive the offers in preview (no more than one email per day, unsubscribe in 1 click, no distribution to third parties):
---
To follow us, we invite you to download our Android and iOS application. You can read our articles, files, and watch our latest YouTube videos.