news culture The Lord of the Rings: The Rings of Power Amazon series presents its new community on video
The peoples of Middle-earth will have to work hand in hand from September 2, in the series The Rings of Power. Amazon invites us to find on video the great figures who will have to ally against Sauron in this adaptation of Tolkien's stories.
A new alliance between peoples
The fate of Middle-earth is in their hands. This is the summary of the pitch of this new trailer, very short but condensed to the maximum to sweep all the protagonists who will be at the heart of the events of the series on Amazon Prime Video. Called "Friend", this new trailer not only reminds us of the arrival of the series The Lord of the Rings: The Rings of Power. He briefly recapitulates the stakes of this new adaptation based on the writings of JRR Tolkien with regard to the tormented period of the Second Age.
We are therefore entitled to a few quotes that are supposed to mark the spirits while stirring up our impatience a little more a few weeks before the launch of the series: "the dreaded moment has come", "Sauron is really back", "the Elves and the Dwarves working hand in hand", without forgetting the famous "I call on you to fight with me" around which revolves the theme of this new video. Galadriel, Elrond, Durin IV and all other representatives of the free peoples of Middle-earth will somehow form a new communityseveral millennia before the events recounted in The Lord of the Rings.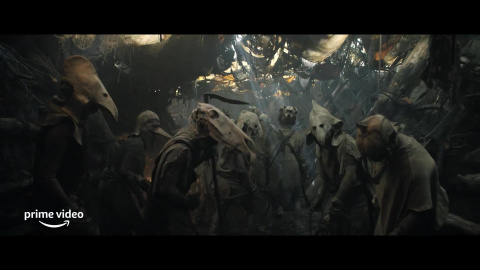 The series should also tell us the Last Alliance of Elves and Men in the face of Sauron's schemesthe fall of the island kingdom of Númenor and above all the creation of the rings of power which gives its name to the Amazon Prime proposal.
---
Known characters and new ones
Just recently, the platform had offered us two long interviews bringing together the main actors of the series as an extension of the San Diego Comic-Con. The opportunity for fans to associate these new faces with the great figures of the history of the Second Agelike Celebrimbor, Gil-galad, Elendil, Isildur, the queen regent Míriel or even king Ar-Pharazôn.
Knowing that series The Lord of the Rings: The Rings of Power also grants itself the right to integrate many new characters, alongside those imagined by Tolkien, we will see to what extent it manages to convince (or not) both purists and neophytes of Middle-earth. In the meantime, don't hesitate to consult our previous articles on the series and rewatch the latest trailers!
The Lord of the Rings: The Rings of Power series is due out September 2 on Amazon Prime Video.
---