Starlink, owned by the Space X group, continues to be talked about. Europe is doing everything possible to compete with the American satellite network, and concern is growing among astronomers.
Thursday, November 17, 2022 will remain a historic date. The Commission, the Council and the European Parliament have decided to devote 2.4 billion euros to financing a constellation of satellites which could come into operation at the end of 2024. Called Iris, an acronym for infrastructure for resilience and secure interconnection by satellite, it intends to compete with the American Starlink program, which has since 2019 turned the satellite telecommunications market upside down. Its ambition is clear: to provide high-speed Internet access from space over the entire surface of the Earth thanks to constellations of satellites in low orbit. Its owner, Elon Musk, CEO of the manufacturer of SpaceX launchers and Tesla electric cars, boasts today of bringing together 700,000 subscribers worldwide, including 6,500 in France. Some 700,000 others are also awaiting delivery of connection equipment.
Beyond this consumer commercial success claimed by the businessman, the outbreak of war in Ukraine on February 24, 2022 highlighted another Starlink application. Indeed, during their offensive, the Russians destroyed a large part of the ground communications infrastructure. Mykhailo Fedorov, the Ukrainian Minister of Digital Transformation, had the idea of ​​soliciting Elon Musk. Which was happy to offer the Ukrainians 10,000 Starlink connection kits, allowing their troops to communicate with each other in encrypted mode and to receive information from their allies, such as the position of Russian military sites. The US military itself would consider relying on constellations of satellites to improve data transmission between command centers and fighter planes or combat drones. Even to follow the trajectory of hypersonic missiles, Russian and Chinese for example. A major application that did not escape Thierry Breton, European Commissioner for the Internal Market, during the vote on the Iris project. He explained that it was vital to have a space communication tool in the event of a conflict " for the economy, security and defense of states members ».
This relatively recent increase in the importance of satellite constellations is still in its infancy. Starlink announced on August 25 that mobile phones could soon use its satellites. Initially, this service will make it possible to send emergency sms in high mountains, at sea or in all other areas of the globe without a telephone network; eventually, it will also allow surfing and making calls. Apple's iPhone 14 should thus be one of the first consumer smartphones to integrate a chip capable of connecting directly to Starlink. This offer will compete directly with existing satellite telephony systems, such as Cospas-Sarsat, Spot, Iridium, etc., all of which have the main drawback of requiring the purchase of a specific device.
An increase in the risk of space collisions
The massive arrival of satellites in low Earth orbits, however, is making people cringe. Observers have thus noted that the installation of this extraordinary constellation amounts in some way to appropriating space, by definition extranational. A stranglehold that worries other satellite, scientific, weather, remote sensing, etc. operators, because it would increase the probability of space collisions. With, as a consequence, a multiplication of debris making these low orbits unusable. On September 2, 2019, the European Space Agency had to maneuver one of its Earth observation satellites to avoid a collision with a Starlink model.
Last criticism, and not least: in 2020, professional astronomers strongly protested against the light pollution induced by the thousands of Starlink satellites, which leave long trails on the astronomical images, to the point of rendering them unusable. Elon Musk promised to fix it… by painting his satellites black to make them less shiny.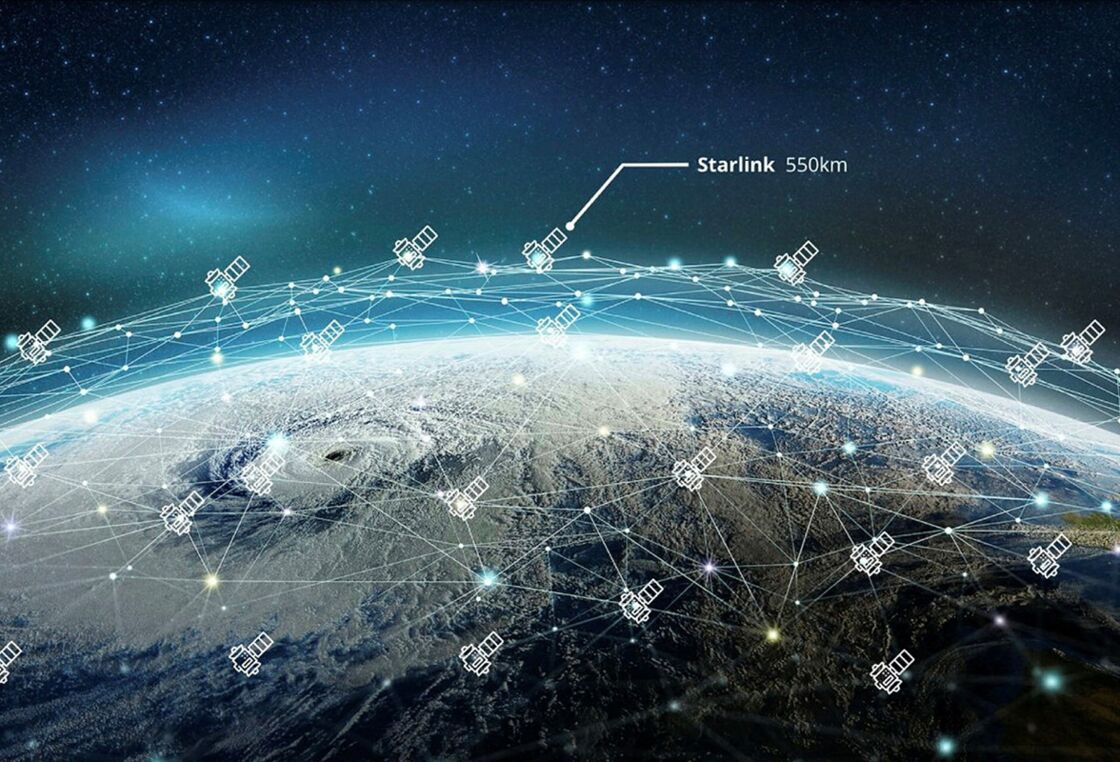 How the Starlink Network Works
Earth stations connect the Internet to satellites.
Communications are transmitted from satellite to satellite.
The individual devices receive and send information.
The antennas focus the flow of information on the nearest satellite.
Satellites can replace community wired connections.
FOR FURTHER
Internet
> starwalk.space/en/news/spacex-starlink-satellites-night-sky-visibility-guide : the Star Walk astronomy and star observation site devotes a chapter to the Starlink system and explains how to spot these satellites in the night sky.
You may also be interested in:
⋙ Light pollution from satellites threatens our night sky vision and asteroid monitoring
⋙ Colonizing Mars: Elon Musk's crazy project!
⋙ NASA estimates that human beings will be living on the Moon within 10 years