news culture Amazon Prime's other superhero series will have a season 2. And it's going to be trashier than The Boys…
If today we mainly hear about the success of The Boys, know that another ultra violent series of superheroes signed Amazon Prime Video will be entitled to a Season 2! Invincible is indeed back!
Summary
A hit animated series

Invincible Season 2 is coming soon!
A hit animated series
Even if the spotlight mainly stops on the series The Boys – which will also have the right to a Season 4 shortly – note that there is another adaptation of comics in series on the side of Amazon Prime Video. We are obviously referring to comics Invincible by Robert Kirkman who, very recently, had the right to an animated series.
Broadcast for the first time on March 26, 2021, this proposal signed by Robert Kirkman, once again, but also by Cory Walker and Ryan Ottley, tells the adventures of young Mark Grayson. Unfortunately, this denier is afraid that he does not have the broad shoulders to support the notoriety of his father who is nothing but the most powerful superhero on Earth. The young Mark then tries somehow to make a place for himself in this world, especially when he develops his first powers.
---
Invincible Season 2 is coming soon!
Today, we learn that this series, which has received a very good reception from the press and the public, will be entitled to a second season. Indeed, the big news was announced earlier today through a trailer (which you can see at the top of the article).
As you can see from watching the very first trailer, Invincible comes back with humor. The main character, aware of being in a cartoon, dwells in particular on his noticeable absence by referring to the design of the series. We therefore have the right to a small preview of the dubbing sessions, but also of the writing of the script and some sketches, but that's not all… This trailer also takes the opportunity to announce a release date for the Season 2 : everything will therefore arrive by the end of 2023.
As promised, this Season 2 will be even bloodier than that of the first opus. We can't wait to see it in pictures.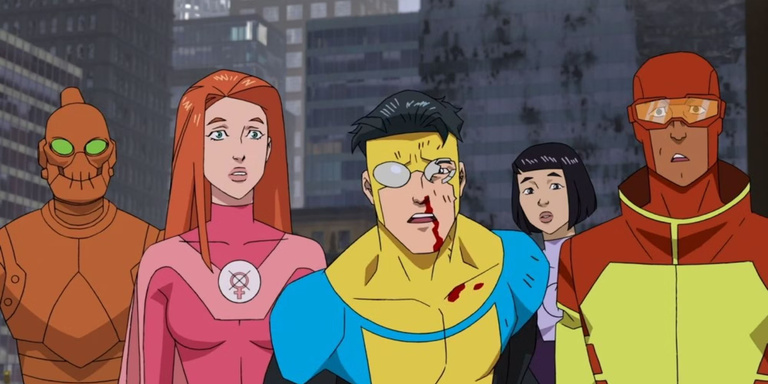 ---